Another week in September. The last real week of summer, autumn is coming closer every day. Trying to make this a good week, I have a few appointments to go to. So need to plan my energy right for those days. But I'm pretty sure I'll manage and otherwise I'll probably fall asleep on the couch some 😴.
⏰ Snooze! It's not that warm, it's dark and I want to sleep some more please… But I got up at 4AM and did my usual thing. Definitely needed a warmer jacket as it was only 9°C when I walked Arwen and went to the gym. They predicted some sun and 24°C so that would be nice. I'd have to go to Nijmegen this afternoon for the hairdresser 💇🏼 I finally get my short hair back again! I always feel it grows back way too quickly. 😊 I started with a few arm and leg exercises and then I headed to the seated bike. Updating my blog, reading others' blogs and I tried to up the intensity again, like I had done yesterday. It's nice when it's comfortable but I'm at the gym to burn some calories and work on improving my health (and some day also my looks).
Don't know how I feel
Don't know if I'm scared
All I know's I've got so many regrets
It's been this way for the last two years
I can't seem to stop

No, I can't do this on my own
Please tell me you won't go
And leave me alone and cold
Don't let me drown in my mind

Songwriters: Derek Hoffman / Paul Marc Rousseau / Janick Francis Thibault © Hopeless Records, Story Untold
After the seated bike I headed to the climbmill. Let's ts get that heart working hard again! It's still a very challenging exercise for me with my legs but I do enjoy it and I wish to get better at it. Plus maybe get some better looking glutes 😉! After 22 minutes on the climbmill I went to the crosstrainer for 12. Then it was time to head home. When I opened the door, my watch told me I had done my 100% activity for today. It was just after 7AM, good start of the day. Of course with me going to Nijmegen today I had less time to ride my bike during the day. So this good start did help.
I made and ate brekky, rode my bike and took a shower. Hair nice and clean for the hairdresser. 😊 After that I waited for a text of our friend saying she was ready for walkies. She had an appointment so she was later than usual. I had let Arwen out for a quick wee in between the morning walks.
I wanted to visit the big Appie after my haircut, as ours often had empty shelves on things that I wanted to take. So I was hoping the XL Appie near my parents would have what I needed for this week. Well, for most of it at least. But when I texted mum about the Appie, she said the hairdresser was ill and had to postpone the appointment for a week! Damn, my hair really could use a trim or two… 😂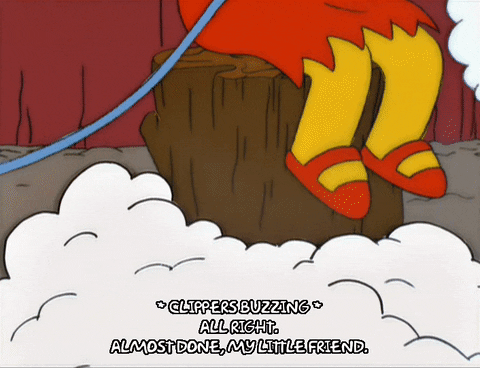 So I went to Nijmegen anyway. Helped mum with something, then we walked the doggos together. Arwen was lucky, another walkies and to the small woods this time. Then we headed to the Appie. But even this big XL one didn't have the stuff I needed! Damn… Should I curse the war in the Ukraine for not having any lemon water or airfryer fries?! These aren't weird things to want, I think they're very usual, but still, they're hard to get these days. I'll have to visit our Appie after the PT tomorrow and fingers crossed they'll have some…
Arwen and I headed home again. I relaxed a bit and then I hit the bike for 40 minutes. Of course I had gotten some snacks (stupid I know but damn, so good)… I made Arwen and myself dinner and then we went for a small walkies. Some more bike riding followed. I wanted to watch the new House of the Dragon episode but didn't have the concentration for it. So I watched some Castle while riding. After my ride I played a little Walking Dead. I'm thinking of writing a blog post about what I learned about different versions of this game… I found it very weird but I guess it's a thing??? I'll start writing soon 😉.
After gaming it was time to get ready for bed. I was kinda tired so was hoping for a quick snooze into dreamland. Brushing teeth, taking meds, walking Arwen and then to bed! I took some melatonin. I didn't experience loads of pain, so I didn't take my oxy. I could always take it if needed during the night.
Positive: gaming a bit and getting some exercises done.
Gaming: Telltale's Walking Dead Final Season.
TV: Castle, Law and Order SVU and Cold Case.
Music: Punkmix on Spotify.
Book: 7th Heaven.
While I slept rather well, I still felt like the night had been too short. I wish I could recharge better in a little over 8 hours of sleep. But after I had used all my snoozes ⏰ I finally got up and dressed. Walked and fed Arwen and headed to the gym. I did two arm exercises this morning. Then I headed to the cardio section. Started, of course, with the seated bike. Again slowly increasing the intensity, trying to get myself to a higher level bit by bit. After the bike I went to the treadmill. I'll hit the climbmill again tomorrow, giving my legs a little climbing rest today. I had done two decent workouts the previous two days. 😊 I hit the incline on the treadmill, also trying to improve that. I used to walk on 5%, sometimes a short while on 6%. So now I tried to push myself by hitting the 8% for a while… Things were getting sweaty 😅!
I don't wanna say goodbye
Can we just say goodnight?
Tell me how to change your mind
Over coffee at midnight

Sink into my trust again, keep me uncomposed
Teach me how to love again, thinking of yourself
'Cause patience is poison just watching you come and go
I guess there's no use in hanging around

Words you're spitting out
Something I can live without
At least you can be happy now

Songwriters: Steve Knight / David Potter / Bonnie Fraser / Jonathan Panichi © Rude Records, Stand Atlantic
After the treadmill I headed home. Made and ate breakfast and then I headed to my bike for an hour. I tried to keep my HR in a good zone, getting me some more calories burned this morning. Little did I know that I still would not have a deficit at the end of the day she to my snack attack 😭.
After my ride I uploaded some acreenshots of my games to Flickr. And I wrote for some blog posts that needed some of those images. First a blog about my experience with the Walking Dead game. And then I started writing a post on Telltale Games. I got a message from our friend that she had arrived (the previous message she had send had arrived at the same time… Weird) so Arwen and I got ready for walkies with her. They had predicted some rain for today, but the weather was kinda nice. It did make you sweat as there was some humidity in the air for sure.
After walkies I ate a bit and relaxed with some bike riding until it was time to walk Arwen and head to my PT's location. Man was it sweaty outside… The therapist had some work on my back, it cracked and my muscles had some knots. But it felt so good to be loosened up again. On my way back I stopped for some groceries at the Appie. This time they had what I wanted. But I was hungry so I bought snacks, which I enjoyed a little too much… Dammit Cyn! Ugh.. After that I made dinner for Arwen and myself and then I let Arwen out for a bit. And then, back to the bike with some Season One Telltale Walking Dead. I wanna grab some more trophies 🏆 haha. And I want to have played them all.
As I had found out that my disc of the collection of Walking Dead games had different trophies than the stand alone games, I looked for a second hand game of the last season. I had the first few seasons digitally. I started with the first season on PS3, which I am now replaying on PS4. I already played the other seasons digitally on PS4, except for the last one as it was quite expensive on the Playstation store. But I found an affordable PS4 used copy so I ordered that. Looks like I'll play loads of Walking Dead games 😂. After about an hour my hands were getting tired of gaming so I closed the game and kept riding for a bit.
In the end I rode for 95 minutes. Then I was done and I relaxed a bit while watching the last bit of House of the Dragon. Then it was time to get ready for bed. Meds, teeth, walkies… Melatonin and my eBook and hopefully I'll fall asleep easily!
Positive: getting 300% activities today 💪🏼. It made up a little of my snacking… And playing some games. It's always fun when I feel good enough to game. 🎮
Gaming: Telltale's Walking Dead season 1.
Music: Punk Essentials on Spotify.
TV: House of the Dragon, Cold Case, Law and Order SVU.
Book: 7th Heaven.
I think I shut off my ⏰ alarm in my sleep as I can't remember it going off. So when I opened my eyes and saw the clock saying 4:04, I should have been up already. I quickly dressed and prepared Arwen's brekky. We went for walkies and it was raining a little. They did predict rains today, so it was expected. I fed Arwen, put out her snack and walked to the gym, armed with an umbrella ☔. When I wanted to open the door, it was closed!! No note on the door, just locked. It's been locked once before but that was when their internet was down, so the scanning equipment didn't work, so the gates did not work. But there was a sign on the door then, now there was nothing. So I had to head home again… Yay for the umbrella ☔ I guess…
Your thoughts become your enemies
When you're locked inside this cage
Life can feel dead to me
And all that's left is rage
Regrets for all the time we wasted
Thinking of ourselves
Holding on to pain you tasted
Living in this hell

Don't wanna go back home tonight
So I'll drive this road alone

Stay alive for the good times
Stay alive through the bad
Stay alive for the hopes and the fears and the dreams
The best that we ever had

Songwriters: John William Feldmann / Matthew Pauling / Zakk Cervini / Andy Black

Songteksten voor Stay Alive © Songs Of Red Bull, Abiersack, Robot Dragon Music, Imapauling, Civere Sounds
Arwen looked at me strangely when I got inside. Like "whatcha doing here already?". I got my water bottle from the fridge and headed to the hometrainer. I would ride that to get some workout at least. I also got my fitness gloves so I maybe could do a few dumbbells exercises. But I felt tired, probably also because of disappointment of the gym being closed. I rode my bike for two hours. Then I did some arm exercises before I made washed myself and made breakfast.
I had send some messages on social media to Basic-Fit to ask why the fitness was closed. Of course the social team was still getting up and ready so I didn't expect any reaction until after 8, or maybe even 9… I had texted our friend that the gym had been closed when I got there and I didn't know why. So she offered to go on walkies with Arwen first and then she'd check out the gym to see if it were open already. I did get a message back from the social team while we were walking, that they were sorry I had come to find the doors closed. They would try and find out the reason and if it was open again.
When our friend came to pick up the access card, I had learned it was an internet malfunction that made the door and entry gates unusable. They should be open again now. Which of course was good news for our friend. I played Lego DC Super Villains for a while. When my hands didn't want to play anymore, I got on the bike for a bit, until our friend came to bring the access card back. I needed some groceries, so did she, so I joined her to the supermarket. We both got our groceries and walked back home.
I made some lunch and then rode the bike for an hour. After which I made dinner for both Arwen and myself. We went for a short walkies and then I rode the bike again. Just in relax mode with Lego DC Super Villains to entertain me. And when my hands gave up on me, I watched some season 1 of Homeland. I started season 2 when I got off the bike after 1:45. Today I'd finally have a small calorie deficit, yay for that. Even with the gym being closed. So I think I did rather okay. Then it was time for teeth, meds and Arwen's last walkies.
Positive: gaming, riding the bike and having a small calorie deficit.
TV: Cold Case, Homeland and some L&O SVU.
Music: Punk Essentials on Spotify.
Gaming: Lego DC Super Villains (PS4)
Book: 7th Heaven.
I needed all the snoozes to get up. It had been a colder night and during it, I closed the window and put a plaid on my bed as my feet didn't want to get warm. And that means me not sleeping all that well. So, getting up, dressed, walking and feeding Arwen. Just another early morning. I headed to the gym, fingers crossed 🤞🏻 it would be open this morning. I could open the door so that was fortunate! I started with three arm exercises. Then I headed to the seated bike. Read and liked some posts by others. Even managed to reply on one. Then I wrote some for my own blog. I still have a few "in advance" posts, which I always love as it takes the pressure of "needing to write". I love writing and sharing. And I may not be the best with words, it brings me jou and that's most important for me. 😊
Eight billion souls to change the reason why
I've always walked with blindfolded eyes
'Cause they always told me it's impossible
To make it better

Standing in line to the end of your life
"Let go your dreams, forget what's right!"
Society told you it's impossible
To make it better

What we change will be forever!

Written by Elize Ryd & Olof Mörck, © Nuclear Blast, Amaranthe & Beyond the Black
After the seated bike I went to the treadmill. I wanted to walk with an incline for half an hour. And I often have issues with the location of the stop 🛑 switch. Often when I need to dry my arms, I hit that damned thing ! And you can't just reset it and keep going. Nope. It needs to quit the program, go into neutral settings and then it resets and you can start again… Taking away some precious time I could have used walking. I understand the need for that button, I'm just too clumsy with it. I walked 30 minutes, with an incline from 4-8. Then 5 minutes cool down where I went back from 8 to 4. After that, I headed home. I made brekky, rode the bike for 30 minutes, washed and changed clothes and then Arwen and I got ready to head to Nijmegen.
Mum had asked me to come to them today and drive, so that's what we're going to do. Arwen will stay with Bas, so she can play a little. 😊 I drove mum and myself to Kranenburg, where we visited several supermarkets and got most that we needed. Then we headed back. Mum needed to deliver something and had asked me to drive her there and back, so after the groceries, we went on that ride. Then I packed my bags and Arwen and I headed home again.
I had texted our friend we were on our way back. When I was done cleaning out the groceries, she also was ready for walkies. Sooooo Arwen got ready and we went on our way. The weather is already turning from summer to autumn. But it was warm enough for Arwen to swim so that made her happy. 🐾
After walkies I ate a bit and then I rode my bike on low settings for 45 minutes. I relaxed after that and then it was time for dinner for Arwen and myself. I let her out for a wee after that. I wanted a short round, but she had peed and turned around to head back home. So I guess she didn't feel a need for more walkies. Signs that she's slowly aging. 😊 I rode my bike for 90 minutes. Then I changed clothes and played story level 3 of Lego DC Super Villains. Then some relaxing and it was time to prep for bed. Meds, teeth, Arwen's walkies… I read a little until I fell asleep.
Positive: I finally had a decent calorie deficit today! I went to a store and bought zero snacks! Yay!
Gaming: Lego DC Super Villains (PS4).
Music: 90's Rock Anthems on Spotify.
TV: Homeland, Castle & Cold Case.
Book: 7th Heaven.
While I had a decent night, again I struggled to get out of bed. I wonder why 8+ hours are never enough for me. I need to walk Arwen after 9 hours… Otherwise I'd try to sleep some more I guess. Once I'm up I yawn a few times and then I'm normal getting in the up and running mode. Well, without the running 😂. I got dressed, walked and fed my gall, grabbed my bag and headed to the gym. Fortunately it was open again. Since that closed door I always fear its closed… I did 3 weights exercises and then I headed to the seated bike. Slowly upping the resistance again, trying to get stronger and better.
Now can you hear the call in our rambling land?
Susurrations that can expand
Beyond all hope of light
And plunge us into unrelenting night

A pall, a truth and reason
It feels like hunting season
So avoid those lines of sight

And we'll set this right
Welcome to the new dark ages

Songwriters: Greg Graffin / Brett W. Gurewitz

Songteksten voor New Dark Ages © Polypterus Music, Fig Music
After the seated bike I headed to the treadmill. I walked for 20 minutes and then did a 2 minutes cool down. I almost made it to 2km in that time. I'm still afraid of running on a treadmill, so now I'm practicing with elevation on it. I even managed a few minutes on a 9% incline! Wow that was quite a challenge. But I really enjoy it so I guess I'll keep working on improving to see how far the incline percentage goes on the treadmill. Of course I can just press the button now but I find it more fun while really working towards walking it myself as well. Then 15 minutes on the crosstrainer, which I found quite a challenge after having walked with a good incline for a while… I then headed home and ate my breakfast.
After brekky I rode my bike. I wanted to ride an hour but my stomach started hurting and with my (mild) IBS that means I need to head to the loo asap. So I managed 57 minutes, still not too bad. After the ride I washed and changed clothes. Then I took a broom through the apartment. After gathering many of Arwen's precious "glitters", it was time to do the dishes. I try to do these as little as possible as it really hurts my hands. I've tried using gloves but that resulted in broken wares as I didn't have the best grip with them, unfortunately. Then some relaxing until our friend texted she was home and we could go on walkies.
After walkies I ate some and then I relaxed a bit. I went to the store and used my credit card, as my money was spend already. I wanted some nice things for this weekend, as I have friends coming over. My neighbor gaming friend on Saturday afternoon and two dear friends on Sunday. So I got some things and headed home. While walking home my bestie called me, and while I had my headphones on for some music, I was able to easily chat with her. 😊 I got home whil chatting and started making dinner as well. Both for me and for Arwen. 🐾 We hung up and I could enjoy my dinner. Short walkies with Arwen after that.
I rode my bike for a bit. Unfortunately I also snacked… 🤦🏼During the ride I played some Walking Dead season 1. When I had been on my bike for an hour, it was time to relax. I was very tired and had expected to fall asleep but instead, my stomach was hurting. I felt like I was super hungry. And it made a lot of grumbling sounds… So I snacked a little bit. I still had a small calorie deficit after that. Not too much, but hey, still not bad! After watching TV it was time to get ready for bed. I was tired enough so I hoped for a good night's 😴.
Positive: still being in a small deficit, even after snacking…
TV: Castle, She-Hulk, Cold Case and a bit of Rings of Power.
Music: 90's Rock Anthems on Spotify.
Gaming: Telltale's Walking Dead, season 1.
Book: 7th Heaven.
Another struggle to get up. But I did and did my usual routine. At the gym, it was legday today. So I started with several leg exercises. I'm still practicing the squat with (guided) barbell. I've never been truly able to squat so slowly learning. It's painful for my muscles but feels good seeing myself make some progress while I'm doing it. Plus the guided barbell helps me to keep straight, which helps me to remain the form. I could definitely not do this yet with a normal barbell but maybe, some day. I will keep trying and hopefully improving as well. After several leg exercises I went to the seated bike. As it was a little later than I usually start, I only did 45 minutes. Then onward to the treadmill. Another incline walk with 5,2-5,8km/h speed. I had an incline of 4-9%, only the last minute of cool down I went to 0%. It's still hard but it also felt good to do. 😊
Stacy, can I come over after school? (after school)
We can hang around by the pool (hang by the pool)
Did your mom get back from her business trip? (business trip)
Is she there, or is she trying to give me the slip? (give me the slip)

You know, I'm not the little boy that I used to be
I'm all grown up now, baby can't you see

Stacy's mom has got it goin' on
She's all I want and I've waited for so long
Stacy, can't you see you're just not the girl for me
I know it might be wrong but I'm in love with Stacy's mom

© Brando Records, Bowling For Soup
I headed home, washed up. Went on the scale. 0,2 kilo less than last time. So no huge improvement but, it wasn't a gain! Made and ate brekky. I texted our friends about walkies and then we all got ready to go. It was about 11°C outside, it's getting colder. Summer is I er I guess. 😔 Unfortunately… I always do better with +16°C temps, my muscles are less painful then. We had a good walkies, Arwen got to play with her yellow lab friend Sam. She really adores him, he adores the cookies in my pocket 😂. But he also enjoyed running around with Arwen.
When we got home I made some eggs with mushrooms. Then I did a few dishes, wiped the floors with the broom, as Arwen is still spreading her happy glitters all around. I cleaned a few spots I had missed yesterday. The laundry I had done yesterday was dry, so I folded it and put it away. Another thing nice for when my neighbor friend would come to game with me. Again, he texted he would be a bit later. Seems like a pattern 😂. We started with the game I had asked help for, Lego Indiana Jones 2.
We needed several tries to get the hang of it. Neighbor friend, let's call him R, he never really played Lego games. Only the Star Wars bit he tried at my place last week. But we got the task done and another one I could not tackle as well! I think he liked it as, in the end, we did about 40% of that level! It was a lot of fun, but I offered him to play something he wanted for his trouble. He told me it was no trouble, but he did enjoy some God of War Ascension. As PS+ runs through my account, he hasn't set up his on my PS4 yet, he even got me a few 🏆 Trophies! It was a lot of fun to watch him play and help with getting around. I sometimes used YouTube to check the next step if he could not find it. I think he played about 25% of the game. And I never got bored watching.
When he went home, I tried a little God of War 3. I had played the game before, on September 19th 2017… Different times man! I was so different back then… But after almost 5 years I played a little again. Died a few times but was able to make some progress, yay. Even got a trophy 🏆. 😊 Yay me! Then my hands were too tired, so I watched some Castle until it was time to get ready for bed. Took meds, brushed teeth, walked Arwen. Then I took my painkiller and some melatonin and I read a little until I fell asleep. 😴
Positive: having a great time with R together. I'm lucky to have him as a neighbor. 🎮 Next time we'll play something at his place.
Games: Telltale's The Walking Dead, Lego Indiana Jones 2, God of War 3 (remastered). And I watched with God of War Ascension.
TV: some Rings of Power, Castle and Cold Case.
Music: Remix Gym Hits on Spotify.
Book: 7th Heaven (finished). And a little of Harry Potter and the Order of the Phoenix.
I almost slept through my alarm ⏰ as it didn't snooze as it should. But I woke up, got dressed and did my usual routine. Glad to have this routine as it really helps me focus when I am just awake. 😊 At the gym I started with 3 arm exercises. Then onwards to the seated bike. I rode for an hour, still upping the levels every 10 minutes. I was in doubt if I should use the climbmill, the treadmill or maybe both… My friends that would come over today would be at my place around 10, so I needed to be ready by then.
I'm always screamin' my lungs out 'til my head starts spinnin'
Playin' my songs is the way I cope with life
Won't keep my voice down
Know the words I speak are the thoughts I think out loud
I like to keep things honest
I'm a safe bet like your life's staked on it, for real
I'd hate to keep you all wonderin'
I'm constant like the seasons, I will never be forgotten, man

Let's leave no words unspoken
And save regrets for the broken
Will you even look back when you think of me?

Songwriters: Alexander Thomas Shelnutt / Jeremy Wade McKinnon / Joshua Steven Woodard / Kevin Patrick Skaff / Neil S. Westfall

Songteksten voor All I Want © Kobalt Music Publishing Ltd.
I had charged my controllers 🎮 so we could game. The weather wasn't all that good, lots of rain expected today. It was already raining when I went to the gym. I did a few arm exercises and then went on to the seated bike. I upped the intensity every 10 minutes and slowly I'm getting better at it, I think. 😊 Then the treadmill, still practicing with 8% incline at 5,6km/h. I got to 2,12km in 22 minutes. Only the last minute has no incline. Hoping to get my legs stronger, and my heart as well as it needs to worn with the speed and incline combination. Then I headed home. Weather wasn't too nice so I tried to run short bits. I'm not good at it but maybe I can train that as well. 🤔
Washed up, got dressed and made and ate brekky. I texted with our friends that we were early today. They responded they could be early as well, work up an appetite and eat after the walk. I had expected to ride a bit while I was waiting for them, but I could get off and get ready to walk. Still loads of rain, but Arwen didn't care. I didn't let her swim so she would not be too soaked to cuddle with our friends thar were coming over.
Today I snacked quite a bit. But I didn't have a large evening meal to compensate a little. One of my friends tried a few games on my PS+, with one he even got me some 🏆, so that was fun. I made us lunch and then we walked Arwen for a bit. After that, they wanted to watch a movie. Unfortunately it was in Dutch, which I really find horrible 😂! Another film, the last Fast N Furious one but damn, I thought it was bad… I made dinner and we watched a very old movie, the first MaD Max. Young Mel Gibson in leather, nothing wrong with that! 😜
After the movie ended out friends headed home and Arwen and I got ready for bed time. I had a really good day, just need tonz of exercise for all those snacks 😂! Best not buy any the upcoming week. Still no update on my yearly bill for my gas and electric. They're really getting interest on my money before they pay me back I guess… Damn I want my money 😂.
Positive: having a fantastic day with our friends 🎮 📺.
TV: Cold Case & Rings of Power.
Music: RMX Gym Hits on Spotify.
Games: I didn't play, I only watched with a few. 😊
Book: Harry Potter and the Order of the Phoenix.
Thank you for your interest in my blog. I really appreciate your visit. If you like my posts and you want to share them on your social media, please, feel free to do so! I'd be honored. If you don't want to miss a thing, press the follow button (you'll need to be a signed in WP user) or scroll down and leave your email below this post. If you are a WP user and you would like me to know you liked my post, press the star/like button please. Thanks ever so much! Of course comments are welcome as well, but spam won't get shared, so don't bother…

Please be wise and stay safe! I hope to see you back real soon again, feel free to drop in anytime! Wishing you all the best. With love, Cynni 🌹
---
I am living on a disability income and don't generate an income with my blog. If you would like to support me and my work, I'd greatly appreciate it. Every bit helps me tremendously. For more information and a donation link, please check out http://www.ko-fi.com/PlaystationPixy

If you prefer to use PayPal, that's also a possibility: http://PayPal.me/SuperCynni

Thanks ever so much ♥