When you live in an apartment, in between others, you can always suspect to hear noises from the people around you. Unfortunately, I am living in between some noisy apartments. And normally, I would be out a lot, at the gym, walking Arwen, walking to get groceries… But the last few weeks I have been home way more, due to the surgery and all.
And wow, I cannot wait to escape the home again. My upstairs neighbors with their elephant thumping kid… It's an insult to the elephant as I am sure their tread is way softer and more gentle than the kid living above me. This week, the schools have vacation, which means a lot of disturbance above me… My downstairs neighbors have loud voices and an even louder yapping dog. Makes me wish some more to be out and about these days. I have to turn the TV to LOUD because the noises are driving me nuts. That, plus my mum needing to point out every noise to me like I could do anything to make them go away. Believe me, if I could, I would. I hate all these noises…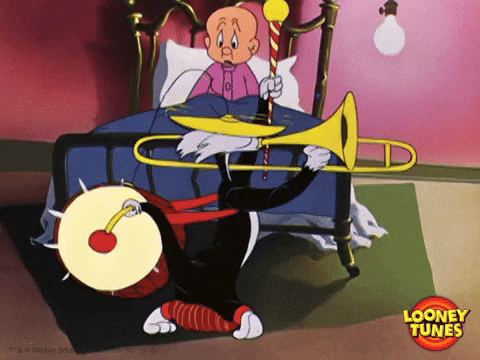 I wish I could live in a better place, where isolation would be better, were yapping dogs and loud kids (and loud foreign "music"…) would be banned. I wish I could live in a house, as that would make the number of neighbors less and I would not have elephants marching above my head…
This seemed suitable 😂 But still, that one kid, makes more noise than a playground full of them, especially when they have "music" on, it makes me want to blast some Rammstein…. 🎸
I am hyper sensitive to several things… Sounds, light, smells and touch. They all affect me more than they do "normal" people. I could say NT people, meaning Neurotypical people. People that would want to label me, would say I am Neurodivergent, as my brain does not function in a typical way. Please check the link for some more information 😉.
So yeah, I know I cannot afford a different living place, so I'll be stuck between these sounds. I can talk to the neighbors about it, but I feel like they don't really care so much. For instance, my upstairs neighbor denied that her washing machine was keeping me awake at 1:30 AM while I could hear it's thumping from the centrifuge all through my apartment……. They sometimes have the music so loud that I can't hear my TV again. And I hate turning it higher as I dislike too loud sounds, but I really do not like their choice of music…….. I'm dreading November coming closer as their favorite Xmas song is Mariah Scarey's "All I want for Xmas" and they will play it, loudly, again and again and again, often starting in the end of November 😔.
So that's some extra motivation to get my rehabilitation started sooner rather than later! An hour at the gym means an hour without the sounds I dislike. Walking with Arwen for longer rounds, several times day, also means less noises disturbing me… Really hoping for some good news when the Doc reviews my Xrays… Fingers crossed 🤞!
I wish it were easy to lock out the sounds I don't want to hear. I wish I didn't hear as well as I do. Even with the damned Tinnitus, I still have a rather good hearing. Only with certain high sounds, especially on the wavelengths of my Tinnitus beeps, and low bass sounds, I have difficulty. Those sounds also hurt me, they make me want to isolate my ears so it isn't that bad anymore…
I have special ear plugs, which sometimes help. My buds have noise canceling, which helps a lot at the gym and outside. But wearing those plugs too much gets uncomfortable. And the same goes for the Buds. They're quite comfortable when listening to music or a stream, but otherwise my ears prefer to stay free.
So keeping fingers crossed 🤞🏻 for good news… I hope to be able to spend more time away from home again… The apartment that took quite a while to feel like mine, like a safe place I could call home. I now hide away because of all those sounds disturbing me and my mood…
Thank you for your interest in my blog. I really appreciate your visit. If you like my posts and you want to share them on your social media, please, feel free to do so! I'd be honored. If you don't want to miss a thing, press the follow button (you'll need to be a signed in WP user) or scroll down and leave your email below this post. If you are a WP user and you would like me to know you liked my post, press the star/like button please. Thanks ever so much! Of course comments are welcome as well, but spam won't get shared, so don't bother…

Please be wise and stay safe! Follow the safety precautions, keep distance, wash hands and wear a mask when needed! I would not want you to get ill… I hope to see you back real soon again, feel free to drop in anytime! Wishing you all the best. With love, Cynni 🌹

I am living on a disability income and don't generate an income with my blog. If you would like to support me and my work, I'd greatly appreciate it. Every bit helps me tremendously. For more information and a donation link, please check out http://www.ko-fi.com/PlaystationPixy

If you prefer to use PayPal, that's also a possibility: http://PayPal.me/SuperCynni

Thanks ever so much ♥