I have started this series several times, even have several seasons on Bluray… Last time I was watching this on Netflix, I got to season 8. And then for some reason, I stopped watching. Now it's on Disney+ Star, and I decided to start it once more… I later found out that it is still on Netflix, so I could have just got on where I had left it. But nope, I wanted to watch it all over, to get into it again.
I know this TV series is based on a comic book series. I had and have never read those, so when I first started this show, I went in blind. As I wrote, I have watched this before, I even wrote a post about it back then: Now watching – the Walking Dead. I was watching season 4 then, just before Xmas 2019.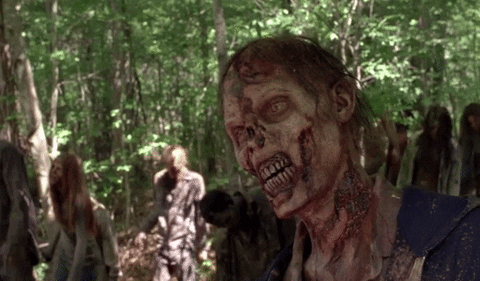 Some things I mentioned in that post, I still feel and wonder… Where did Rick get those matches in the hospital? I've been hospitalized several time but I never saw any matches in the hospitals I have been in. And believe me, I have been in several… And also, where do all those walkers come from? I mean, in the city there are many people so you're bound to have many dead folks. But when they're in the middle of no where… What made those walkers go miles and miles? They are drawn to blood and noises… I would think they'd find more "fresh meat" in highly populated areas than in the rural parts. What made them all flock together and decide to go on such a long journey? 🤔
Last time I was watching, I highly disliked Andrea. She's the one that makes me anxious to get her character killed off by an angry mob as soon as possible… Not that it happens… But I just wasn't able to like her character. Maybe this is intentionally, or maybe it's just me, who knows? Lemme know in the comment section 😉
Some more information about this TV show, maybe you haven't heard of it yet (who knows?) and you're looking for some more info to maybe start watching it. At the moment of writing this blog, it's available on the Dutch Netflix and the Dutch Disney+ Star streaming services.
The Walking Dead is an American post-apocalyptic horror TV series based on the comic book series by the same name by Robert Kirkman, Tony Moore and Charlie Adibard. The series has a rather large ensemble cast as survivors of a zombie apocalypse, trying to stay alive under near constant threat of attacks from zombies, who they call walkers.
The main character that "starts" this series is Andrew Lincoln as Rick Grimes. Rick is a former sheriff's deputy who got injured during his job. He gets hospitalized and then the apocalypse happens. When he wakes up in a deserted hospital, walkers everywhere, he is eager to find his family and to find out what the hell happened. He travels to the city, hooks up with some people and when they go to their camp, Rick finds his family back. But not without a twist and turn…. He turns out to become the leader of the pack until he leaved the show in the 9th season. I have not seen it yet, so no clue yet as to how and why he left/had to leave. And I don't want to Google any spoilers…
Rick's former partner Shane Walsh is played by Jon Bernthal. He was his best friend and they meet again when Rick travels to the camp. In season 2, things get heated and things do not end well.
Rick's wife Lori Grimes is played by Sarah Wayne Callies. She had an affair when she thought her husband had died… She gets pregnant in season 2 but things do not go well for her in season 3…
Steven Yeun plays Glenn Rhee. He is a former pizza delivery dude, who saves Rick's life in the first season. Glenn falls in love in season 2, even gets "married" later on. He became a very important member of the crew and when things went south in season 7, many people were very upset about it.
The son of Rick and Lori, Carl Grimes, is played by Chandler Riggs. Carl is forced to grow up quick and fast due to the ever present thread of the walkers.
Norman Reedus quickly became one of the favorite survivors as Daryl Dixon. He is the group's primary hunter, knows his way around a bow and motorcycle. He trusts Rick and his way of handling things and he later becomes his right hand.
Melissa McBride plays Carol Peltier. Originally a meek housewife, she overcomes domestic abuse to become a skilled and resourceful fighter who is very capable of making some hard decisions…
In season two, Lauren Cohan joins the cast as Maggie Greene. She is the eldest daughter of the Greene family. She falls in love with one of the crew, marries and becomes a mom. She also became the leader of the Hilltop Colony.
In season 3, Danai Gurira joins the cast as Michonne. She is a fierce, katana wielding woman who joins Rick's group of survivors. She later becomes involved with someone of the group until she leaves the cast in season 10. I have not seen this yet, so no idea why she left yet… (nope please no spoilers in the comments, thanks!).
There are many more characters/actors and actresses who have recurring roles in the series. But as far as I have seen it, these are the most important ones when you're starting the series.
Season 1 started in October 2010 and had 6 episodes. Season 2 started in October 2011 and had 13 episodes. Seasons 3-9 all started in October in 2012-2018 and all had 16 episodes. Season 10 started in October 2019 and had a whopping 22 episodes. I have only seen up until somewhere in season 8… So still some episodes to watch for me. But until then, I am enjoying the re-watch on Disney+ Star.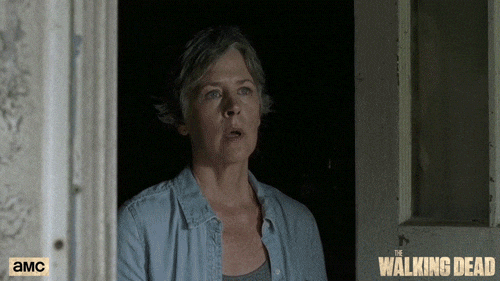 Thank you for your interest in my blog. I really appreciate your visit. If you like my posts and you want to share them on your social media, please, feel free to do so! I'd be honored. If you don't want to miss a thing, press the follow button (you'll need to be a signed in WP user) or scroll down and leave your email below this post. If you are a WP user and you would like me to know you liked my post, press the star/like button please. Thanks ever so much! Of course comments are welcome as well, but spam won't get shared, so don't bother…

Please be wise and stay safe! Follow the safety precautions, keep distance, wash hands and wear a mask when needed! I would not want you to get ill… I hope to see you back real soon again, feel free to drop in anytime! Wishing you all the best. With love, Cynni 🌹
I am living on a disability income and don't generate an income with my blog. If you would like to support me and my work, I'd greatly appreciate it. Every bit helps me tremendously. For more information and a donation link, please check out http://www.ko-fi.com/PlaystationPixy

If you prefer to use PayPal, that's also a possibility: http://PayPal.me/SuperCynni

Thanks ever so much ♥